More fun on Round Island!

We left Mahone Bay with the intent of anchoring at Mason Island but the anchorage was exposed to the wind and fetch so we decided to head back to Round Island. During our first visit to Round Island we met three men named Steve at the turkey bake. The Steve with the big motor yacht "Trinity" had also returned to the island with a few of his buddies. We had fun drinking a few beers with them. They insisted we try "Solomon Gundy" which is pickled herring. I didn't care for it but Tim liked it. Maybe I just needed something stronger than beer to wash it down with! Shamus also liked it (hard to find something he doesn't gobble down) but it left his whiskers smelling a little fishy –yuck!

We stayed at Round Island until late afternoon on Tuesday and then decided to head over to South Shore Marina for the night. The winds were from the south at about 14 knots when we dropped the mooring but increased to a steady 20 knots en-route. You know the wind is strong when you can feel it in the cockpit sailing downwind! It was a fast and fun sail.
South Shore Marina

South Shore Marina is full service marina and there is also a restaurant there. The mooring cost $35 per night. The most expensive price for a mooring we have paid in Nova Scotia so far. We chose this yard because we wanted to re-fill our water tanks and shower. The yard is still busy launching and doing other maintenance on boats to get them ready for their owners to use for the season. The next morning when we went in to fill our tanks the yard had boats lined up almost the entire length of the face dock where the water is located. Tim masterfully docked "Carina" in the only available spot on the end of the dock. It was a tight squeeze made even more challenging because there are no cleats on the dock to help stop and position the boat. Curiously, except for one motor boat all the boats lined up on the dock were all Nonsuch's. Nonsuch's must be a popular boat at this marina because there were several moored throughout the anchorage and more waiting to be launched.
Chester & Big Tancook Island

After topping off our water tanks at South Shore Marina we motored the short distance to Chester's Front Harbor and picked up a mooring for two nights at the Chester Yacht Club. The club is very pretty but doesn't offer any amenities such as showers or laundry. Interestingly our friend Chris Allen's grandfather, Capitan James Allen was a founding member of the yacht club and his house called the "Captains House" is located just across the street from the club. It is now a rental that can be used for events such as weddings or for vacations.

There is a ferry that runs several times a day between Chester and Big Tancook Island. We had read and been told that a trip to Big Tancook is like stepping back in time and that there are hiking trails around the island. Tim and I were excited to visit there as we often use this same description to describe Monhegan Island – one of our favorite islands in Maine. It turned out there were no trails on Big Tancook – what ones there are are private and not available to the public. The island has had full time residents dating well back to the 1800s, maybe even earlier, but unlike other places we visited there weren't many historic homes or buildings. Still it was a nice little day trip. We finally had some ice cream and met a cute little pig in the gift shop named Ruby! The ferry stopped at Little Tancook on the way back to Chester and from what we could see from the ferry it seemed to have more of the "step back in time" appeal than Big Tankcook did.

We spent our third night in Chester at the docks owned by a restaurant called the Rope Loft. Dockage is free if you buy a meal there and there is water available on their dock.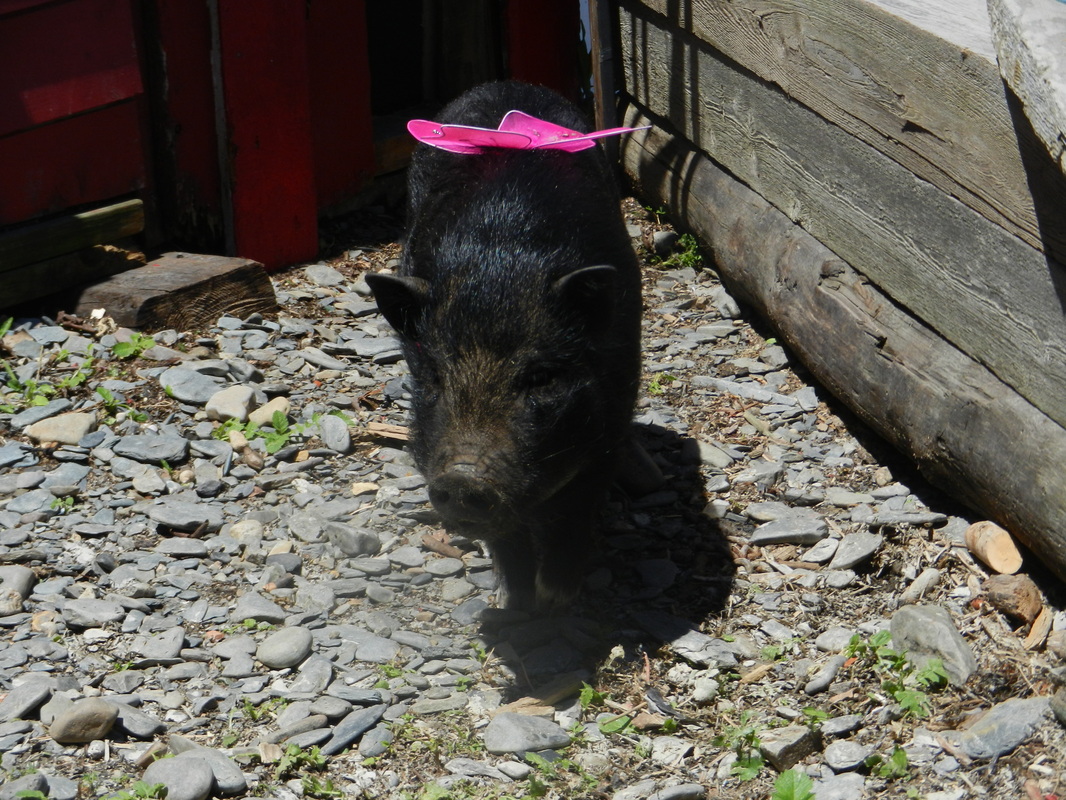 Rogue's Roost

We skipped over St. Margaret's Bay as we intend to visit there on our return trip back to Maine. We took Bruce and Diane Jardine's advice and went to Rogue's Roost. It is the most beautiful anchorage we have visited in Nova Scotia. The entrance is narrow and a little intimidating as there is a huge rock right in the middle of the entrance. We entered the Roost on a falling tide so the rock was visible. Still we felt it prudent for me to go out to the bowsprit to keep a look out for rocks.

Apparently Rogue's Roost was a hideaway for rum runners and perhaps privateers and it is a good one. We anchored as far back as we could in the North end of the anchorage and you could not see our roughly 60' mast (including the antennas on top) from Hearn's Island which is just outside the entrance to Rogue's Roost.

It is hard to describe the beauty of this location and I don't think our pictures will do it justice. Roost Island has rolling green hills covered with low vibrant green brush (perhaps low bush blueberrys) and evergreen trees. There are huge erratics that were deposited on the hilltops by receding glaciers that seem to be teetering on the edge of rolling down to the sea crushing everything in their path.

Hearn Island is just outside the entrance to Rogues Roost and has a lovely little beach and picnic area. There is a short but scenic walking trail that takes you across the island. It is just a stunning place. While there we ran into Rob and Karen and their dog Duke and some friends having a pancake breakfast on the beach. We had met them at the Armdale Yacht Club when we dropped our truck off there. It was very nice to run into them again.

We spent two nights there enjoying the scenery and an Osprey that was fishing right next to the boat and once again meeting and having some beers with folks who invited us on board as we motored by in the dinghy. Who are we to pass up an offer for a beer!


Our week in Halifax

Wrandees Trails - Wait! Haven't We Been Here Already!

We arrived at the Armdale Yacht Club and reunited with our truck on Monday, June 30. The next day we decided to go for a bike ride rather than explore the city as it was Canada Day (their version of our July 4th) and we had been told that Halifax's downtown and historic waterfront would be a mob scene. There are a lot of places to mountain bike in the Halifax area but there is very little information available about them other than connecting with someone who knows them – in other words find a bike shop – but they were all closed for "Canada Day." A book we have about mountain biking in Nova Scotia and some information we gleaned from the internet mentioned a trail system located in one of the provincial parks not far from the yacht club called Wrandees. The book and what little information we found on the internet described the Wrandees trails as technical single track with some roots and rocks! I am a decent technical rider and Tim in an excellent technical rider so the description didn't bother us much. There were also no maps that we could find of the trails so we knew we would be doing some exploring. So we set off for a nice little afternoon adventure with our bikes and our pup! Hmmmm….we discovered:

· Wrandees is a very complex trail system. You would never know this from the map located in the lot where we parked the truck. Other than the spot marked "You Are Here" the map was pretty vague. It showed a few big trails that circled the lake. None of which were single track. So we rode around and finally came across a single track trail and off we went.

· Some of the worse trails for mountain biking we have ever encountered. "Some rocks and roots" is a gross understatement. There are so many rocks and roots it was difficult just to start pedaling before having to dismount - sometimes voluntarily sometimes not! I knew I was in for a difficult day when Tim had to get off his bike a few times! He rarely gets off his bike! Still we persisted…maybe we just hadn't found the right trail! NOT!

· That Shamus is no Lassie! Lassie never failed to rescue "little Timmy" whenever he got himself in trouble. After a couple hours abusing ourselves and our bikes on the rocks and roots we decided to head home. Beers back at the boat seemed much more appealing than more bruises. Somehow we kept circling back to the same set of boulders and one particular mud puddle that we had obviously ridden through more than once. Finally after about the 5th time one or both of said "Damn! we were just here" we decided to pull out our phones to view the apps we use to track our ride. We could use the information provided by the apps to backtrack the way we came. Unfortunately my phone was dead (it had been almost fully charged when we left) and Tim's app locked up and wouldn't bring up our track- so much for technology! Shamus was no help! We jokingly told him to "go to the truck" but he was content to just sniff around in the woods where we stopped or follow us blindly in whatever apparent misdirection we set off on! If Lassie had been with us she would have led the way home to safety and our cold beers!

No worries though! My ever prepared husband whipped out his compass and got us headed in the right direction. We rode as frequently as the trail permitted and hiked our bikes the rest of the way. Tim was able to ride more than me and at one point I came around a blind corner to see that he had done an endo (an involuntary dismount directly over the handlebars)! I was quite concerned but again Shamus trotted right past Tim on way to smell something or other in the bushes ahead of us. He didn't even stop for a sniff! Very un-Lassie-like!

Since I am writing this blog it is obvious we made our way back to our boat and our beers which we felt we deserved and enjoyed immensely! Tim hurt some ribs when he did his endo so he will be sore for a few weeks but he hasn't let that slow him down!

We also enjoyed reconnecting with Andrew and Heather Powell. We had met them in Portland, Maine last year when they were sailing the Hunter they had just bought here in the U.S. back to Halifax. We exchanged information and promised to look them up if we were ever in Halifax. Coincidentally they are members of the Armdale Yacht Club so reconnecting with them was rather easy. It was great to get reacquainted with them again.


Batten Down the Hatches! Hurricane Arthur!

We spent the next couple days exploring Halifax and the town just across the river called Dartmouth where we found a fantastic bike shop called the "Bike Pedaler". We had them complete a minor repair on Tim's bike and found them to be a great source of information for bike trails in the area. So we did actually end up finding and enjoying a bike ride at decent trail system at Spider Lake that is a short distance outside Darmouth in the town of Waverly. Tim just had to ride a little more conservatively than usual due to his rib injury.

We had planned on leaving Halifax about mid-week but with Hurricane Arthur heading in our direction we thought it prudent to stay put. We were on a strong mooring in a well-protected harbor so there was really no better place to be to ride out the storm. Tim and I prepared the boat for the storm by removing the dodger and cockpit enclosure, tying down the main sail, removing our anchors etc… and then checked into a hotel Friday night to ride out the storm in comfort. We were worried but not greatly concerned about the boat but we knew it would be more comfortable off of it and more importantly we didn't want to deal with getting Shamus on and off the boat while it was bouncing around in the storm. We stayed at the Atlantica which is very nice hotel that also happens to be pet friendly. They brought Shamus up a massive dog bed that he absolutely loved sleeping in! H. Arthur arrived on Saturday with strong winds but thankfully not as strong as predicted. There was no rain and in fact part of the day was sunny. We spent the day exploring the Citadel which is a historic site that overlooks Halifax Harbor. While inside its thick walls you would never know how strong the winds were. However, when we crossed the parade grounds to get from one part of the citadel to another we got sandblasted!

We had an absolutely fabulous dinner Saturday night at a restaurant called the Bike Thief downtown Halifax. It was recommended by several people and I am so glad we took their advice. Tim and I agreed it is one of the best meals we have ever had. DELICIOUS!!!

Sunday we headed back to the boat and spent the day getting the boat put back together. Later in the evening we joined Heather Powell and her friends Liz and Kate for a relaxing and very fun evening. Thanks again ladies! It was great fun and the dinner Kate whipped up for us all was fantastic!


On Monday, July, 7th we left Halifax for Shelter Cover - our first stop along eastern shore of Nova Scotia on our way to the Bras D'ors Lakes.

The next 3 days we were shrouded in fog as we visited Shelter cove, Malagash cove and Hartlings island. We saw no other boats or people during this time.