We have been cruisers for a week and day! Today is Memorial Day and we are tucked away in a beautiful little working harbor in Cutler, Maine. We arrived here around 11:30 a.m. this morning and as I write this we have buckled down for severe thunderstorms that are headed our way. The storm warning includes the possibility of gusts of up to 60mph and hail. It has just started to rain heavily and there is some thunder and lightning but nothing too bad at the moment. Let's hope it doesn't get worse.

We left Tenants Harbor on Thursday, May 22nd, and headed to Isle Au Haut. It didn't appear that the island was prepared for the arrival of transients this early in the year. The rental moorings either had a dinghy on them or the mooring lines were so badly tangled we couldn't pick them up. We decided to head back to Merchants Row and anchor between McGlathery and Round Islands for the night. We put the engine on the new dinghy for the first time – it is scary fast! We hung out on shore and enjoyed some beer and snacks while Shamus sniffed around. Other than one or two passing lobster boats we pretty much had Merchants Row to ourselves. We walked pup on Round Island in the morning. We looked for signs to determine if we were allowed on the island or not. We didn't locate any but stuck to walking a short span of shoreline overlooking McGlathery.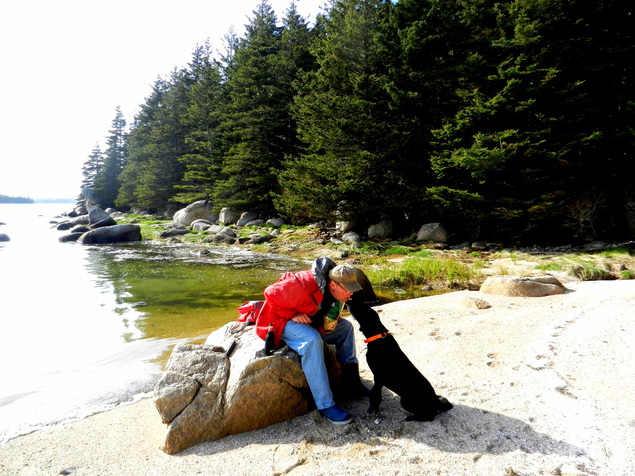 On Friday morning we departed for Northeast Harbor (NEH) located on Mt. Desert Island / Acadia National Park. The winds were mostly from the east so we motored most of the way. Once again we found that they weren't quite prepared for transients. The water was not turned on in the cruisers lounge and they are doing a little more construction in the building. I believe they are adding washers and dryers.

Saturday morning we completed a few chores. I did some laundry while Tim changed out the water pump and also changed the gear oil on the dinghy engine. Then we unloaded our mountain bikes from the garage (the aft cabin) for the first time. It is so great to have them with us. We rode the "Around the Mountain" carriage road loop starting and ending in Northeast Harbor. We rode a total of 15 miles and climbed a total of 1,500 ft. As always the scenery in Acadia was beautiful and it felt great to get some exercise.


Sunday we departed NEH for Roque Island. It was a long day and once again we mostly motor sailed as again the winds and current we not favorable. Another sail boat arrived at the same time so we didn't have the anchorage to ourselves but we could hardly complain. This was our second time there and we both still agree it is the most beautiful beach we have been on including those we have visited in the Caribbean. You can't beat green pastures, pine trees and a white sand beach.
So we end our Memorial Day here in Cutler. There was a break in the storms that allowed us to go to shore and enjoy a brief walk with Shamus. There are trails here maintained by the Maine Coast Heritage Trust (MCHT). We look forward to exploring them tomorrow. Our current plan is to stay put tomorrow and head for Grand Manan Island on Wednesday when the winds will be more favorable for sailing. We will check in to customs there and then head on to Yarmouth later this week.

A special thanks to all the veterans who made the ultimate sacrifice to protect our freedom. You are not forgotten!