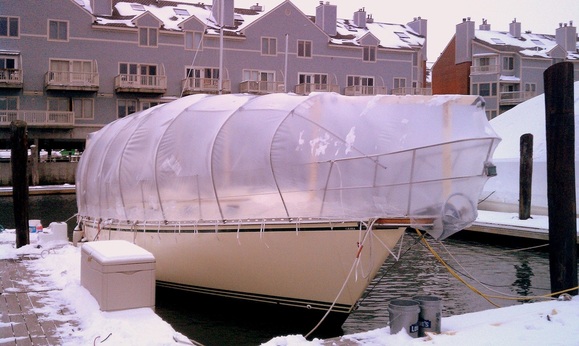 Winters in Maine are cold and snowy. In order to make the boat a little more liveable in this climate we cover the boat with clear shrink wrap. This allows natural light into the boat during the day and also acts as a greenhouse to warm up the deck area when it is sunny. The deck will get to anywhere from 70° to 90° on winter days when the temps are below freezing. This greatly reduces our need for heat and also extends our living space up to the deck where we will have breakfast in our PJs on the weekends.

The frame is simple 2x4 construction with 1" PVC conduit as ribs. The shrink wrap is installed and tied down to the toe trail to leave a small gap to allow for ventilation. We never have condensation under the plastic. With the mast in dry storage the cover is watertight. There is a framed door on the aft starboard quarter that makes for easy ingress/egress. You can just see the top of the door frame above the dock steps in the photo above.

The frame of the cover is also wide enough to walk up the side decks. This is great for doing work on deck in the winter.

---